'Feel the Qi'- Thailand Qigong Retreat – 13-20th May 2018
There is nothing quite like being able to tune out all the distractions of daily life to focus on one simple thing. In 2018 Long White Cloud Qigong will be offering just such an experience – a week long qigong retreat in tropical Thailand. Seven whole days dedicated to health, wellbeing, and qigong practice.
You can see from the video below that I made earlier this year when I was researching venues, that Thailand is going to be a fantastic location for our retreat!
The location:
The retreat will be held in a beautiful wellness centre on the outskirts of Chiang Mai in northern Thailand. Nestled in the mountains, Chiang Mai is known for its more moderate temperatures than other parts of Thailand and is considered by many to be the 'spiritual heart' of the country.
The venue for our retreat has been designed according to natural principles to be in harmony with nature and features comfortable air conditioned rooms, beautiful outdoor training spaces, and a pool to relax in during the heat of the day.
The Program
The theme of our retreat is 'Feel the Qi', and there will be many opportunities for you to deepen your connection with your vital life energy throughout the retreat. Each day there will be on offer:
 Sunrise and sunset meditation and qigong practice – with expert guidance to refine and deepen your practice.
 Interesting classes and mini workshops exploring different aspects of qigong to enhance your understanding of qi.
Healthy vegetarian meals made from fresh local ingredients.
Excursions to explore the local natural environment, culture, and wildlife.
Time for rest, relaxation, contemplation – and to receive massage and healing treatments
A typical daily schedule will be as follows:
 

6-8am               

Sunrise breathing, meditation, and qigong practice

 

8-9am               

Breakfast

10-12am          

Morning class exploring interesting aspects of qigong and 'feeling the qi'

 

12-1pm             

Lunch

1-5pm               

Either an excursion, or free time for relaxation and treatments.

5:30-6:30pm   

Dinner

7-9pm               

Sunset qigong practice and discussion time

10pm                

Lights out and quiet – so you can rest and prepare for the next day
Retreat Leader
The retreat will be led by John Munro, founder of Long White Cloud Qigong, and author of  four popular books on qigong. John has taught qigong all over the world, but this will be the first time that you can have the opportunity to spend a whole week with him, living and breathing qigong, and learning from his experience and insights into these powerful practices.  You can read comments from people describing their experience studying with John here.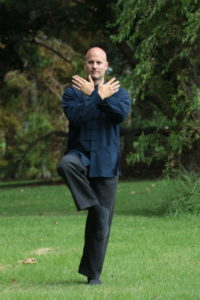 Cost
The retreat package includes:

Transfers from Chiang Mai airport to get you to our retreat venue without stress or hassle

Three healthy vegetarian meals a day

Accommodation in a comfortable air conditioned room for 7 nights

All qigong instruction during the retreat, including morning and evening guided qigong practice sessions, and interesting classes and mini workshops each day.

Three half day excursions to explore the nature and culture of the area

Use of all retreat facilities
Not included:
Travel expenses from your home country to get to Chiang Mai

Travel insurance and any other personal expenses.

Massage and treatments – these can be booked separately. The cost is very reasonable – $10 to $20 USD per hour depending on the type of massage
The cost of this complete life renewing experience is:
Standard Single Room – Earlybird $820 USD (Full Price after 3

rd

March $905)

Standard Shared Room, twin or double – Earlybird $780 USD (Full Price after 3

rd 

March $860)

Deluxe Single Room – Earlybird $930 USD (Full Price after 3

rd

March $1030)

Deluxe Shared Room, twin or double – $845 (Full Price after 3

rd

March $930)
Booking details:
We need a minimum of 10 people to be able to run the retreat.
Early Bird – 50% deposit must be paid by 3rd March 2018 to obtain the earlybird rate.
Full Price  – 50% deposit must be paid by 3rd April 2018
Balance to be paid by 29th April 2018
*Deposits are non-refundable unless the retreat is not able to run for any reason, in which case a full refund will be made.
For more information or to book your place, please contact: info@longwhitecloudqigong.com
Summary
What:

Feel the Qi – Qigong retreat

When:

13-20th May 2018

Where:

Chiang Mai – Thailand

Cost:

$780-$1030 USD (depending on room selection and earlybird rates)

Earlybird date: March 3rd 2018
Registration:

Contact

info@longwhitecloudqigong.com