I know what you're thinking. Another book? Really? That's three books in three months… while travelling… and teaching workshops… and also supervising Online Instructor Training courses…!?!?
What can I say, qigong makes you more productive 😉
Actually these books have taken a lot more than three months to write and publish, it is just that I have managed to complete them and make them available over the last three months. I am committed to providing good training materials for people to learn the art and science of qigong. So there will be more new books in the future, and additional online training materials as well. It will probably be a bit longer than a month before the next ones become available though… 🙂
The practices contained in Enter the Flow aim to help you develop skills and awareness of energy that will allow you to maintain energy flow through your body and in every activity you do. This energy flow brings health and vitality to every part of your body and develops efficiency and grace in your movements. With practice even the most mundane activities can be turned into a kind of gentle moving meditation.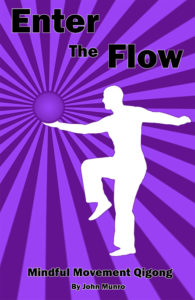 Available from Amazon in Kindle/electronic version here, and as hardcopy here.  If you have another preferred online retailer, try searching for the title and you are likely to find that it is available from there as well within the next few weeks.
The video below talks about how the practices in Enter the Flow fits with other practices from Long White Cloud Qigong. Some people say that Enter the Flow is their favourite kind of qigong practice!