I did some qigong at the beach this morning and I can confirm that it is BEAUTIFUL at 6am.  So our summer outdoor qigong sessions will begin next week – Monday 29th October.  We will meet at the boatramp end of Takapuna beach and practice on a small patch or grass which looks out towards the sea.  The sessions will be weather dependent (they won't run if it is raining) running from Monday to Friday and go from 6:oo – 6:30am.  Sunrise is at 6:22am at the moment so we will see the sun coming up over Rangitoto Island towards the end of the sessions.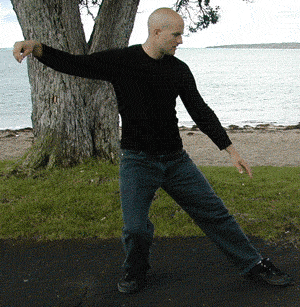 Qigong is an ancient Chinese mind body practice which is excellent for energizing and invigorating as the mind is quieted and the body strengthened.  These will be relaxed practice sessions, focusing on the twelve exercises for the organs and meridians, with a secondary focus on the between heaven and earth exercises for the eight extraordinary meridians.
The cost of these sessions will be 'Give Freely Receive Freely' (this means you pay what you want for the session, you can read more about GFRF here).
Share this with your friends!  It really is a great way to start your day enjoying the outdoors through summer.
What: outdoor qigong sessions
Where: Boatramp end of Takapuna Beach
When: 6:00-6:30am Monday to Friday, weather dependent
Cost: Give Freely Receive Freely/Pay what you want
Contact: John Munro 09 550 3896 or info@longwhitecloudqigong.com
Heres an aerial photo of exactly where on Takapuna Beach we will be practicing to help you find us: